Career Opportunities

Charest Legal Solutions is looking for up to 20 new and/or experienced Stenographic Reporters (remote as well as live reporters)
 Excellent rates
 Bimonthly payment (guaranteed by written contract)
 Vacation plan for full-time reporters
 Diverse work
 We are a proudly Canadian firm and plan to remain Canadian
We provide the support and job variety to allow you to become an experienced, well-rounded reporter.  You will have the opportunity to attend a variety of proceedings:  discovery, court trials, quasi-judicial hearings, tribunals, etc.  Our large client base handles construction, medical, family and a variety of other types of proceedings so you do not become motor vehicle accident weary!  Our approach to training while you gain practical experience enables you to advance your writing skills and dictionaries.
We are support-focused and love helping new and experienced reporters achieve their goals.   We have trained many reporters over the years and our reporters have impeccable reputations.
We are not all about work, though.  Holidays are important.  To ensure some rest in a busy career, we provide our qualifying reporters two tickets to Hawaii with paid accommodations once a year, along with a vehicle to roam the Big Island.  We also sponsor social gatherings outside of work so you can enjoy a break while getting to know your colleagues.
If you find yourself no longer comfortable where you are or are looking for better opportunities, please give us a call.   Inquiries will be kept confidential.
If you have any questions, please do not hesitate to reach out to lisaciurysek@shaw.ca
who will answer any of your questions.   We also have experienced reporters and newer NAIT graduates who you can reach out to for references. 
---
Transliterator – Accurate Realtime Reporting Inc.
Please follow the link above to learn about this available CART opportunity.
---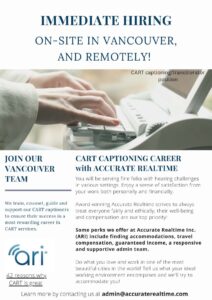 ---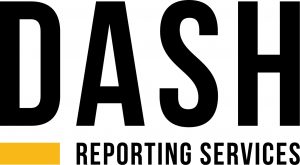 Dash Reporting is based in Edmonton and Vancouver, is family owned, and locally owned and operated by Lindsey Byrt and Michelle Michaud. Our business continues to increase month by month, and we are looking to add to our great team of stenographers.
We are currently looking for reporters to join us who live in the Vancouver area or someone looking to relocate to Vancouver in the future. We cover a combination of in-person and remote work throughout Alberta and BC.
Experience is an asset. However, new reporters are encouraged to reach out. We provide hands-on support and mentorship to new graduates to help them become competent and capable court reporters.
We provide complimentary in-house proofreading, competitive rates, and we pay out for completed work monthly.
Contact Lindsey for further information, moving incentives, or further details at dash@dashreporting.ca, and visit our website www.dashreporting.ca.
All inquiries will be kept confidential.
---
-Updated January 19, 2023